Welcome to Blumhouse is back with The mansion, a film centered on an elderly woman who moves into a nursing home after a massive stroke and suspects that there is a dark secret behind the deaths of the residents. The cast of the film is led by the horror icon. Barbara Hershey with Nicholas Alexander, Bruce Davison, Jill Larson, Fran Bennett, Katie A. Keene, and Ciera Peyton.
Related: Every Fall 2021, Movies and TV Shows Hit Amazon Prime
Screen rant I had the opportunity to speak exclusively with Bruce Davison to The mansion, the horror of the script by screenwriter and director Axelle Carolyn, and his love for the horror genre.
Screen Rant: I love it The mansion, it's such a fun and really intriguing build for the final reveal. What about the movie and the script that really caught your eye as something you wanted to be a part of?
Bruce Davison: Well, there were several things. First of all, when she met Axelle, the director, she had a wonderful vision, she had a vision of a story that she wanted to tell and it was clear to her. He was clear about the type of story he wanted to tell. Second, Barbara Hershey. I made my first movie with Barbara in 1968, so closing the circle with us in our lives was really, you know, a kind of seven ages of actors man.

It's just an intriguing story and it connects with the fear that many people haven't really had a chance to watch, which is something special, who believes you when you get older? Who believes you and then who cares when you get old? We don't die young, that's what happens to all of us.
It's definitely a topic that isn't explored as often as it could in the genre, so I'm glad Axelle brought it to life. What were some of the biggest creative challenges for you while participating in this project?
Bruce Davison: Oh, gosh, it's not so much of a creative challenge anymore, because I've reached a point in my life where pretty much what you see is what you get, you know? I don't have to spend a lot of time putting on makeup unless it's horror makeup and I just like being able to find a character and something about the character that I want to enjoy.

The character I play is full of joy, he just has fun and I love that. The interesting thing is that Axelle would also encourage that in different scenes. Something's up and I find a joke on him or a funny twist and she says, "Yeah, that's it. That's good." So this was one of the easiest trips I'd ever had in a movie. I mean, I didn't have to suffer much. Villains are always great too, you don't suffer as much as a victim or as a hero.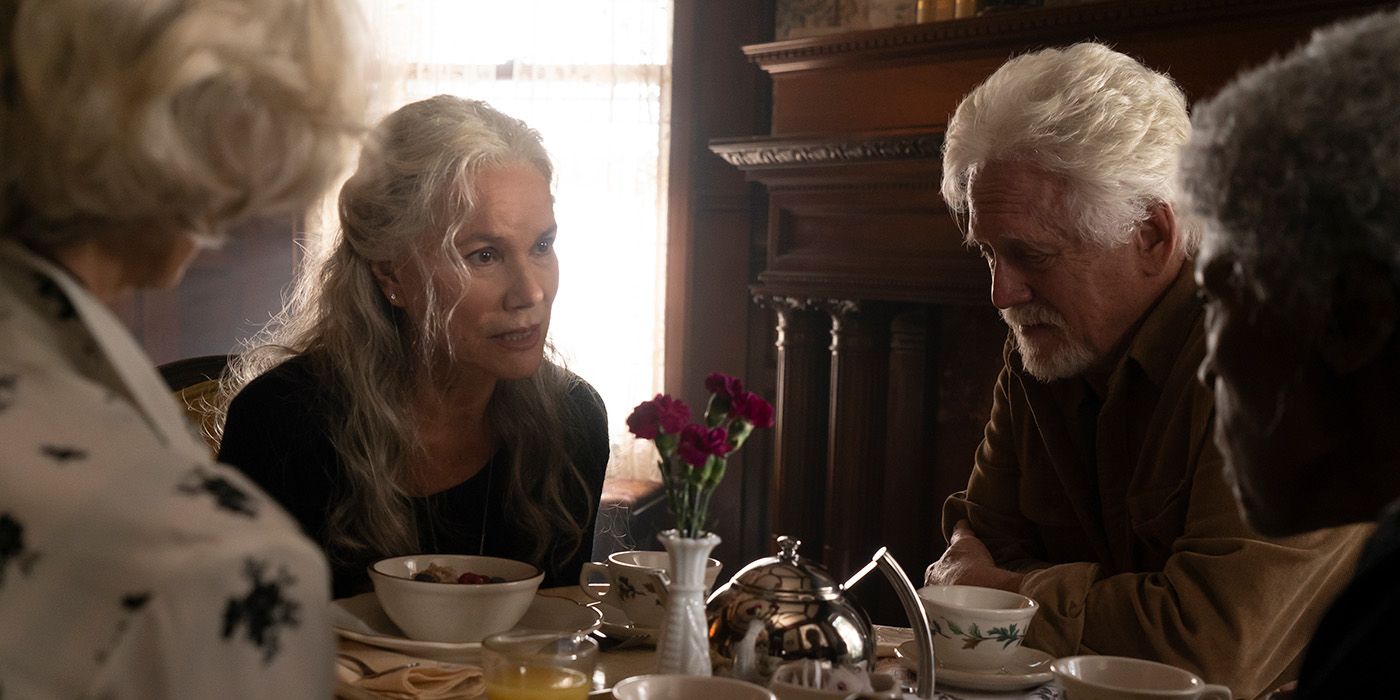 Since the chemistry between you and the whole group of friends at home is such a vital element in making this movie so entertaining, what was it like to build that relationship and that chemistry between them?
Bruce Davison: It was great. It was jill [Larson] and Fran Bennett and Katie Amanda Keane, all of whom brought their own characters so thoroughly. The wonderful thing about Axelle is that it puts four people around a table and has a cast, people who have their own agendas and their own ideas and their own, as actors, great creativity. So, you know, it's just bouncing a ball in the middle of that and seeing who hits it and that's the fun of it. Because we've been there for a while and we're all looking to find joy in whatever we have left of life.
This isn't the first time we've seen you in the horror genre, of course, but what is it about this genre that you feel makes you come back to it?
Bruce Davison: Vincent Price. I always wanted to be Vincent Price. I met him at dinner once and he was the sweetest man. And I said, "Did you enjoy it all?" And he said, "Yeah, some stick to the wall, some don't. But they were all fun. It was fun doing it. And I made a name for myself in that genre." And I thought, "Yeah, I love something like that." That's great.
Plus: Blumhouse The Exorcist 2 News & Updates: Everything We Know
The mansion now airing on Amazon Prime Video.
from ScreenRant – Feed https://ift.tt/3FtWDdF https://ift.tt/3iMtqB4



techncruncher.blogspot.com